Melissa & Doug summed up in one word
Looking at all the flashing electronic toys available today, don't you sometimes wish that you could find a good quality toy that was built like in the old days?
Enter Melissa & Doug.
When most people think about quality toys, they immediately think of wooden. Why is that? Maybe it's the durability and solid feel. Maybe it's something about that warm and smooth texture of quality wooden toy compared to that of plastic.
Whatever the reason, Melissa and Doug has become a crowd favorite among parents as well as children.
Though they do have other toys (e.g., puppets, plush, play food, magnetic activities, music, magic, and more), Melissa and Doug is best known for their high quality wooden puzzles. These puzzles are made for kids up to preschool age, but it's not uncommon to see older children still enjoying them.
---
What sets them apart?
Out of the numerous manufacturers that make wooden puzzles for children, Melissa and Doug stand out as one of the best in the industry. Their secret?
Quality.
If you ever held a Melissa and Doug puzzle in your hand, you would immediately recognize their quality from several things.
First is the solid feel of the pieces. The pieces have a good weight for the little hands and feel sturdy. They don't feel like some of the other puzzles out on the market today that you just know will break after a few weeks.
Second is the craftsmanship of the wooden pieces. From the smooth finishing to the rounded edges, you can tell that the pieces from Melissa and Doug have been designed with children in mind and have been perfected through the years.
Third, for some people this is not a big issue but it is with me, is the graphics. When I see some other puzzle pieces that are not as good as those from Melissa and Doug, one of the things that stand out is the graphics.
I feel that graphics are an overlooked part by most manufacturers as well as the consumers because this is the first thing that will help in engaging the children. Even if you have the 'best' made puzzle, but it doesn't have interesting graphics, good luck trying to have your children play with them.
It's not just about how good the illustrations look. It's how durable they are. Maybe durable is not the right word to use here, but when you, I mean your children, play with a Melissa and Doug wooden puzzle piece, you will realize that the paint was meant to stay and WILL stay for a very long time.
---
Different types of Melissa and Doug wooden puzzles
Pegged puzzles or Jumbo-Knob puzzles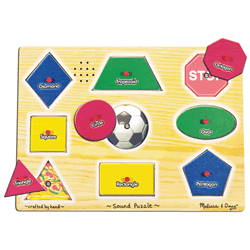 These are your straightforward pegged puzzles. The pegs act as handles and are attached to the wooden pieces that fit into the board. The wooden board has several cutout shapes that match the wooden pieces and are usually accompanied by matching illustrations where the pieces would fit into. This gives the children another way to solve the puzzle, instead of only looking at the shapes for clues.
Sound puzzles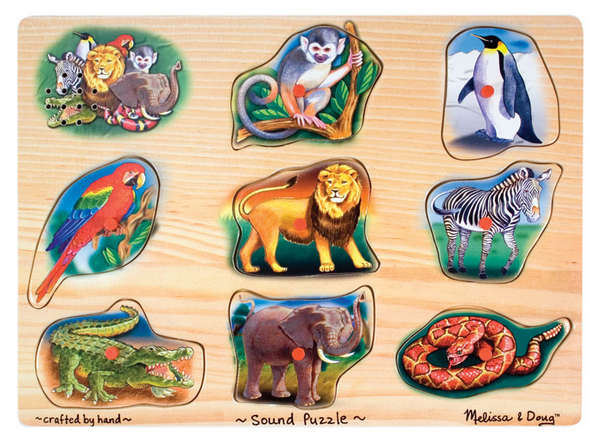 These are wooden puzzles with an added feature. When the correct piece is inserted into its slot, the board makes a little sound giving the child instant feedback. It also works as a small reward for a job well done.
Depending on the puzzle, it could make animal sounds, train sounds or others. The point is that kids love them.
And don't worry. These sounds are at a good level (meaning not too loud) and are short in duration so they won't become too irritating. We all know those kinds of toys, don't we?
Floor puzzles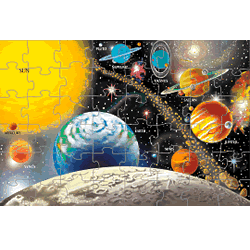 As you can imagine, it is extremely tough to make a floor puzzle with wood. That is why I would have been amazed if any company made one. Thought I was going to say that Melissa and Doug made one, didn't you?
Anyways, the floor puzzles are made out of cardboard like other companies, but still Melissa and Doug just had to set themselves apart.
Their puzzles pieces are thick and extremely durable cardboard that isn't easily destroyed even when they are wet. I speak from personal experience on this matter, so trust me.
---
Other products from Melissa and Doug
Arts and Crafts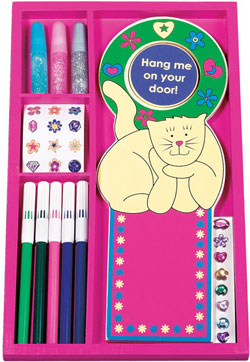 Arts and Crafts?
Yes, Arts and Crafts. Remember near the top I told you that Melissa and Doug made more than just wooden puzzles? (though this is what most people seem to know them for)
One of my favorite Arts and Crafts item from Melissa and Doug is the cat themed door hanger. It has a pre-made door hanger in the shape of a cat and includes different art supplies for kids to use to decorate their own unique door hanger.
I think this is a very neat idea and we've had a lot of great feedback from our customers. So much so that when someone comes in looking to purchase a present for a girl (most of the time) that they don't know too well, we recommend this item as a what we call 'low risk' present idea.
Plush

Melissa and Doug doesn't produce a huge line of plush toys, but it's worth mentioning those that they do. My personal favorites are the giant giraffe, giant tiger, and the giant lion. I had these on display at the store and they never fail to get a second look from the kids and even parents.
And a look of a child as they walked up and cautiously touch them is precious.
I can only imagine the expression on their faces when their parents buy them and bring them home as surprise gifts. I know one thing for sure. They're going to be anything but sad.
Classic wooden toys
The classic wooden toys from Melissa & Doug again set themselves apart from the rest with one important distinction. Quality.
When you look at their wooden blocks set or their play foods you can't help but notice the quality. From the smooth finish to the paintwork, everything is done to a superb level.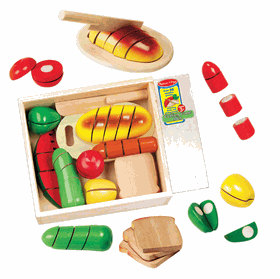 One great thing that I love about their play food is that they are attached by a Velcro. As the children cut the food with a wooden knife that they're given in the set, you will see a smile will on their faces. After all, it's not everyday that they get to cut food, serve it, and simply reattach them together to serve them again.
And the best part for you?
No crumbs.
---
One last word about Melissa and Doug
Okay so this heading is not entirely accurate. I have to give more than just one word about Melissa and Doug. But if I had to, the word would be... Quality (you saw that one coming, didn't you?)
Quality was the main reason that we decide to carry this line in our store. And because we wanted to focus on high-end and higher-quality toys, this was one company that we simply could not ignore. And I think once you pick up a toy from Melissa and Doug you will not be disappointed.
They just make toys that feel good and look good.
Oh right. Kids love them too by the way.
"education at play"

Return from Melissa & Doug to BuddingScholars homepage